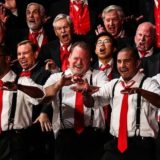 Are you a male singer who perhaps sings in your church choir? Perhaps you sang in high school or college, but have let life get in the way? The joys of singing are many. Add to that, the chance to learn to sight read a little, produce the best sounds you are capable of (but don't really know it)? Perhaps you are new to the CSRA, or a retiree and are looking for a new pass time? Are you a spouse, mother, grandmother, aunt, or Music Educator who knows a male who loves to sing and wants to learn and participate more?

The Garden City Chorus is presenting "REAL MEN SING!", a six-week program of FREE singing and music lessons, and we want you! No strings attached - we will meet for ONE HOUR (7-8PM) each Tuesday evening beginning October 15 and ending November 19. This program will take place at the North Augusta Church (Church of Christ), 600 West Martintown Road, North Augusta, SC - convenient to all men across the Greater Aiken/Augusta Area!

Sheet Music will be furnished to enable all present to learn a few simple songs, in close 4-part MALE HARMONY! The leaders of this program will be out Music Team and Certified Chorus Director, along with our resident classically trained vocalist and music teacher!

Participants will also be invited to stay afterwards as we work on our Annual Christmas Package, and join us as we sing at 8-10 locations beginning with the Annual Christmas Tree Lighting at Fort Gordon on the last Thursday in November!

So come on out October 15th, meet new men of good character from all walks of life, and become a better singer!

Keep The Whole World Singing!