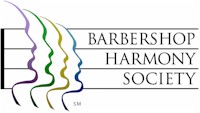 A cappella music

is one of the most highly recognized types of vocal music in the world and barbershop is a prized element. The largest contributor of support for vocal music education in the world, the alliance has formed strong partnerships with school choral groups, music educators, and their organizations.

The Society's successful, enduring resurgence springs directly from our world view and from our commitment to diversity, variety, and quality in all that we do.

View the video "Singing is Life" (12 min.) High Speed Internet or dial-up.

WE ENRICH LIVES THROUGH SINGING
We perpetuate and celebrate the barbershop harmony style.
We serve each new generation of singers through support of vocal music education.
We serve audiences through an uplifting, wholesome variety of a cappella musical entertainment.
We serve our members by sharing fellowship, performance skills, and leadership development.
We help build better communities and a better world, bonding diverse people through the pure fun of a cappella harmony as we Keep the Whole World Singing!"
For more information, visit the Barbershop Harmony Society web site.